NEWS: On The Shelves Next Week: Thompson, Sliney & Ennis
Take a look below at the books hitting shelves next Wednesday featuring Irish talent. Will Sliney is flashback artist on the excellent Pigs #6, Stephen Thompson returns with one of BOOM! Studios premeire books in Hellraiser #11 while Garth Ennis' Stitched #2 gets a special edition.
Image Comics – Pigs #6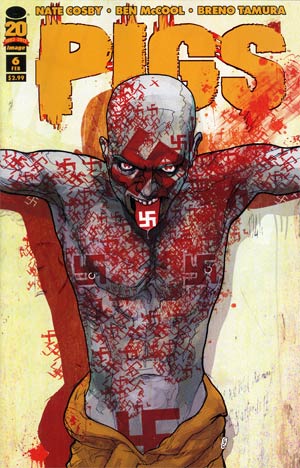 Writer :  Nathan Cosby
Artist :  Breno Tamura & Will Sliney
Publisher : Image Comics
Diamond code : DEC110565
UPC : 70985301088300611
Book Desciption: FRED' Meet Fred. The ongoing sleeper cell adventures continue, by NATE COSBY (Jim Henson's Storyteller), BEN McCOOL (CHOKER, MEMOIR), and BRENO TAMURA & WILL SLINEY (FARSCAPE)
BOOM! Studios – Hellraiser #11
Writer :  Clive Barker
Artist :  Stephen Thompson
Publisher : BOOM! Studios
Diamond code : NOV110806
UPC : 84428400209701111
Book Description: Witness Clive Barker's long-awaited return to tell new chapters in the series' official continuity, a trajectory that will forever change the Cenobites and Pinhead! In this issue, the sense-shattering new reality of Hellraiser is here! It's a fresh start for Kirsty Cotton and Pinhead. There are no rules! No one is safe! Clive Barker's changing the way you look at Hellraiser so don't miss this new chapter in horror history!"
Avatar Press – Stitched #2 Auxillary Edition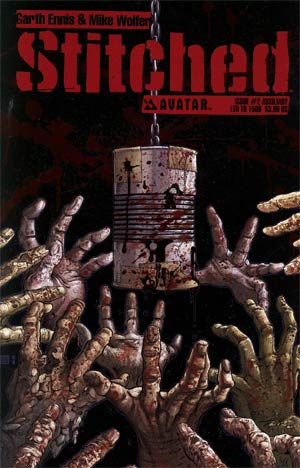 Writer :  Garth Ennis
Artist :  Mike Wolfer
Publisher : Avatar Press
Diamond code : JAN120900
UPC : 82002300767702051
Book Description: Horror artist Mike Wolfer delivers a haunting Stitched image on this special edition first printing that is limited to just 1500 copies and available at the original cover price!