Ciaran Lucas is a colourist based in Dublin who is perhaps best known for his work in the US at Image Comics with the books MacGyver and Reed Gunther and Angel at IDW. ICN caught up with Ciaran to find out how he managed to get work stateside and how as a colourist he plies his trade.
Having learned about cinematics and storytelling while studying animation in college, he found himself with an interest in colouring. His first comic work came at Bluewater Comics in 2009 on an issue of Vincent Price Presents after being approached by a friend who asked for his help. "I wasn't really sure what I was doing." Lucas said and continued "I was trying to do everything at once. It was more of a cartoony horror thing and it went very purple and green very fast. But it was a lot of fun."
Reed Gunther page coloured by Ciaran Lucas
Lucas said that he hadn't thought of that as anything serious but he found himself at a convention in Dublin a couple of years ago where a friend asked him why he hadn't brought along a portfolio and go looking for a job. "I came back the next day and I showed it to Stephen Thompson and Stephen Mooney and they said to call their editor at IDW and he might give me a job. And two weeks later I was working on Angel."
That Angel book was the mini series Not Fade Away. Reminiscing about the book Ciaran said that the experience "was wonderful. I had shown that I was able to colour a comic, that I had an idea about story telling and he gave me a shot. It was great fun to work on as it was an adaptation of an episode and a really great introduction into proper comics because I knew what the episode looked like and I knew what I wanted to have in the book." He continued "Looking back I wish I ventured more from the look of the episode because the pages I got better feedback from are the ones where I didn't stick to the resource material as much and the ones I went off and did my own thing." He acknowledges that it was a great learning exercise on that book to get to know different skin tones and different light and to work under a deadline.
I asked Ciaran about the pressures of a comic book deadline and how much time he has on the book when the artist might take up a good portion of the lead in time before the publisher needs it. "Deadlines vary from book to book and the amount of time it would take to do a page would vary as well. I used to do a bit of work with Dan Boultwood and his stuff is wonderful and cartoony and quite vibrant. Danger Academy is one of his, written by Tony Lee and I can get through one of Dan's pages in about 40 minutes and that's including flatting and tones because his stuff is so clean and a lot of Photoshop processes I set up make it very very quick for colouring pages."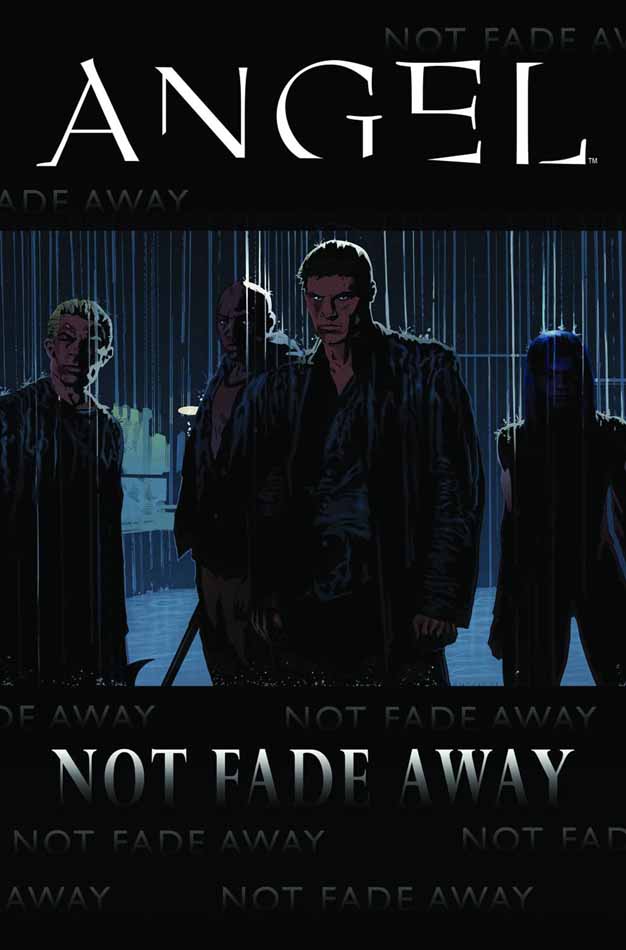 Angel: Not Fade Away (IDW)
Ciaran explained what it was like on the flip side when more work is needed for a book. "On the other hand stuff like Reed Gunther pages I ended up getting a flatter for that because there were unclosed lines and that up a lot of time because of little inky details and it took about two hours per page but there was more rendering in that. Because more flatting was done it allowed me to put more time into the actual storytelling and it gets a bit whacky, a bit vibrant."
I have wondered about how much free reign is given to colourists when they work on a book. "It depends on the project. In most books you'd be given a script and on the very lucky occasions where the whole book is done you get to see where it goes and you get to plan out better what has to be done. I would not go off and do anything crazy without running it past the artist or the writer and I'd never mess with the artists lines." On communicating with the artist Ciaran used the example of MacGyver where the artist was Will Sliney. "I put colour holds on everything that wasn't a character and I ran that by Will because a lot of artists really don't like this because they set up their blacks with a specific value and contrast in mind. If you play with that or change that slightly you're playing with how they have chosen to tell their storytelling. If that's not okay that's not collaboration that's competition and that doesn't make for good storytelling at all."
I asked Ciaran about the feedback he got on Image Comics MacGyver book, particularly with the fanbase so starved of new material from the character to that point. "The feedback I got was amazing. I'm not going to lie, I did look up reviews on the book when every issue came out and there were some people who said that it didn't look like Richard Dean Anderson. Well, we didn't set out to do that but from my end of things all the feedback I got was wonderfully positive and it was a great experience and I got to do things I didn't previously get to do."
MacGyver #1 (Image Comics)
With work coming up Lucas says that he has irons in the fire and he is talking with people regarding more MacGyver related work and he is talking with other artists who at the moment he cannot yet talk about.
With any advice he would give to aspiring colourists Ciaran says that people have become more aware of the colouring aspect of a book where he credits Jordie Bellaire's Colourist Appreciation Day last year for lighting a fire in the industry. "It was amazing to see the feedback from a lot of artists who have a lot of respect for colourists. For anyone who wants to get into colouring I would say to find pages online and ask the artist if they have high resolution versions of the pages to colour as a sample just to figure out what's going on. And when you're ready go to a place like Digital Webbing and try get your first book there and try get credits to your name. You'll learn so fast as long as you are willing to be open to learn. You can find tutorials online for the nitty gritty stuff."